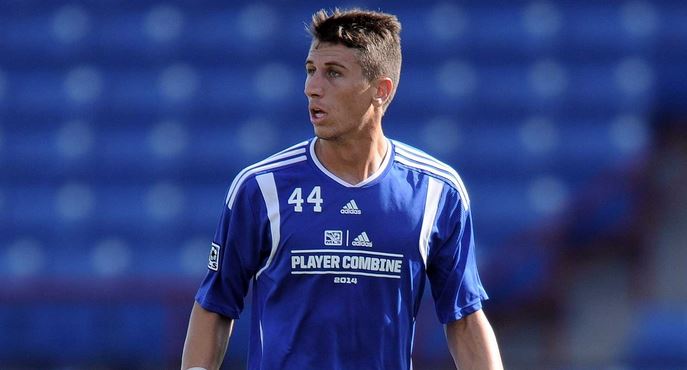 In two high-profile acquisitions over the past week, the Columbus Crew focused on defense and… defense.
With the 14th overall pick in Thursday's MLB SuperDraft, the Crew selected left back Ben Sweat. The selection of Sweat comes just three days after acquiring U.S. international defender Michael Parkhurst.
Head coach Gregg Berhalter said earlier this week the team plans to use Tyson Wahl in a central defensive role instead of left back. Columbus also acquired Waylon Francis during the offseason – the expected starter.
Last year, Tyson Wahl and Agustin Viana split time at left back, but Berhalter said the Crew sees Wahl as more of a central defender. Columbus also added Costa Rican left back Waylon Francis this offseason, who is expected to be the starter.
Speaking to reporters on Thursday, Berhalter said he sees Sweat as a player three years away from starting, but later admitted he believes Sweat can contribute right away.
"We got an exciting player," Berhalter said. "(Sweat) is a very dynamic player, likes to get up and down the wing. Good left foot, good crossing of the ball, good offensive skills.
Berhalter also said he was surprised that Sweat lasted until their 14th pick. The rookie will compete for the starting spot with  Viana and Francis, but will almost certainly have a reserve role this season.
Sweat played for the Crew Junior Super-20 team in 2011, and expressed excitement for the chance to finally play with the varsity squad.
"It's exciting to finally start my career after trying to push for it for a couple of years," he said on draft day. "I'm excited to go to a team I'm familiar with, a couple of guys that I know, that I've played against and played with. I'm really looking forward to getting up there."
In the span of two weeks, the Crew has turned a weakness in its defensive unit into a potential strength. With the addition of Parkhurst and Sweat, Columbus is now both talented and deep on the back line.
The Crew decided not to draft either Pedro Ribeiro or forward Schillo Tshuma, both higher-ranked prospects who most experts had going earlier in the draft.
He later acknowledged the team understood the need for such players, but preferred Sweat to bolster the defensive unit. The Crew will likely focus on both midfield and forward before heading to camp.
(Visited 108 times, 1 visits today)